Founded in 2001 Italian and Italian American Authors and Books
The Italian American
Press helps promote
books primarily written
by authors of Italian
heritage who write about
Italian American and
Italian culture, heritage,
and/or history. Many of
these writers publish,
distribute, and promote
their own books, and
they are often overlooked
by the media.
Reading stories of Italian
American culture and
history will educate,
inform, and entertain
people of all nationalities.
The Italian American Press
www.italianamericanpress.com
©2011-2018 Janice Therese Mancuso
Royanna: An
Extraterrestrial Affair
by Raphael Ferraro
Mystery, adventure,
and a touch of romance
in this science fiction
tale about an
encounter between a
human and an alien.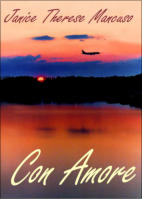 Con Amore
by Janice Therese Mancuso
A modern day romance
combining a bit of
suspense, interwoven with
the history of Italy, the
foods of each region, maps
of Italy, and recipes.
ABOUT US CONTACT FOR AUTHORS ADVERTISERS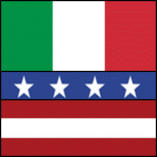 An intimate journey through the remarkable Venetian urban
landscape, with evocative photographs by the award-winning
filmmaker and photographer Riccardo De Cal. Each image is
accompanied by an essay from a cadre of notable international
architects and architectural writers, who explore the elements that
make Venice unique in the world.

Dream of Venice Architecture
reveals the incredulity of her beauty, from the mysterious
sotoporteghi [covered passageways] to the complexity of Carlo
Scarpa's "immaculate detailing."
The true rag-to-riches story of
an Italian fisherman who
survived the occupation and
bombardment of his home
village during World War II,
jumped ship to the United
States at age 18, and went on
to earn his citizenship, become
a local business leader, found a
successful youth soccer club,
and raise a loving family.
Originally designed as an evening class taught at
community colleges, this self-guided language book
starts with the basics of Italian grammar and
pronunciation and pairs it with the traditional foods of
Italy and its food history. Twenty units relate the
essential foods of Italy to conversational skills, building
up to a working vocabulary of 600 words and phrases
that can be used to discuss a variety of food-related
subjects in Italian. Includes written exercises and unit
reviews with online answers and tutorial videos
.
During the end of the nineteenth century,
Sicilian workers – looking for a better life
– traveled to New Orleans after being
recruited to work on Louisiana sugar
plantations. Based on facts and heavily
researched, the lives of Sicilian
immigrants are examined as they travel
from Sicily to southern America. Volume
XVII in a series of books on Sicilian
Studies published by Legas.
Scroll Down for
More New Books
The incredible story of Luigi Del Bianco, the chief carver of
Mount Rushmore, told by his namesake and grandson, Lou
Del Bianco. Filled with historic documents and photographs,
and family memorabilia, the book chronicles three stories –
the carving of Mount Rushmore, the life of Luigi Del Bianco,
and Lou's quest to have his grandfather recognized as the
chief carver of Mount Rushmore.
Former United States Diplomat and Ambassador
John J. Maresca played a key behind-the-scenes
role in the negotiating process that brought about
the historical changes ending the Cold War in
Europe. This informal and personal story chronicles
the evolution of events – lasting from 1970 to the
early 1990s – that eased the break-up of the USSR
and brought what was called Eastern Europe into
harmony with the West.
A
uthor and photographer, Lee Casazza, has been
perfecting Italian-American recipes for over 48 years.
Her knowledge of Italian cooking and kitchen
experience offers a refreshing new look at North
America's favorite food in one of the most complete and
authentic collections of delicious home style Italian-
American recipes.
NEW THIS MONTH
Music is part of the Italian lifestyle, and for the Italian
immigrants who settled in New Orleans during the last
decades of the 1800s, the music of African Americans
beckoned them. A combination of cultures – Italian immigrants
shared similar socioeconomic status with African Americans,
and were also victims of stereotypes and prejudices – along
with the traditions of the festival processions of the old
country, created a blending of musical interests and styles.
Through original interviews and extensive research,
journalists Bill Dal Cerro and David Anthony Witter present a
look into the beginning of Jazz and how it developed through
the contributions of Italian and Italian American musicians. A
chapter of "Fascinating Facts" and a detailed bibliography
complete the book.
NEW THIS MONTH
An Italian "I Remember Mama," set in Brooklyn in
the mid-1900s. In a series of vignettes spanning
over 50 years, Joseph Polacco writes about "the
abundant roads lit by Mom," and compares "her
passing as the dimming of a light in so many
people's lives." The book includes photographs –
some of the "old neighborhood;" a guide to all the
stops along the West End Line, part of the NY City
transit system that ran from Coney Island north to
Central Park (and also featured in the car chase
scene in

The French Connection

); and a glossary of
(mostly Italian) words commonly used at the time.