Founded in 2001 Italian and Italian American Authors and Books
The Italian American Press
www.italianamericanpress.com
©2011-2017 Janice Therese Mancuso
ABOUT US CONTACT FOR AUTHORS ADVERTISERS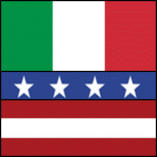 Isabel Comis Degenaars
Casada, A History of an Italian Village and Its People
What motivated you to write your book?
I grew up hearing stories of Casada, my family's ancient homeland, shared by my father. His parents and uncles
immigrated to America in the 1920's in search of work and the chance to start a new life. As he grew older, he
shared stories I had never heard and be only recently remembered. Those memories tugged at his heart as it did
mine. A 2010 visit to my grandparent's ancestral home inspired me to translate my cousin Anna' book into English.
She was born in Casada and only lived a few miles from her family's home. Recognizing the importance of
documenting the history of this village led her to research and write about Casada since its earliest time. She was
enchanted as was I with the magic of this ancient village nestled beneath the Dolomite Mountains, sometimes part of
Austria but then reunited with Italy in the 19th century.
I added an introduction that shared the immigrant experience of my family as they came to America and migrated to
the coal mines of Western Pennsylvania. It includes research of early mining life in the coal patch of Francis Mine and the very human and, at
times, tragic experience of the immigrants who worked them. Anna and I were separated by distance and culture but came together to share
this rich history of shared lineage set in a land that continues to inspire and haunt those drawn to its verdant hills and valleys.
What is the most important attribute of your book?
The translation of this book into English was very challenging as the text included Italian, ancient, and local dialect but yet was so beautifully
written. Another important attribute was my personal journey to research and write about early 20th century life in the coal mines of western
Pennsylvania. Life was hard and often tragic but the immigrants who made mining their way of life did so to build a better life for their children.
I came to better understand the man my father was after learning much about his early life in the mines.
It was written from an Italian perspective. The translation offers an inside and personal glimpse into the sentiment and devotion Italians feel for
the place they call home. Another important attribute was my personal journey to research and write about early 20th century life in the coal
mines of western Pennsylvania. Life was hard and often tragic but the immigrants who made mining their way of life did so to build a better life
for their children. I came to better understand the man my father was after learning much about his early life in the mines.
How far back do you trace your family and can you explain the family name?
With regard to family history, believe it or not but we have only traced the family tree back four generations, not very much. I've asked my
cousin Bruno to go further back and the best I understand is it is both of the following – church records are not complete and why bother? I'm
surprised because he is head of the Regola and is very proud of the heritage of Casada and maintaining its autonomous government.
It was Anna's desire to research and document the history and story of Casada from as early as documented and, in doing so, did an amazing
job. She was able to weave "distant" memories and stories into this account along with her parents' love for their birth "native" village.
According to my cousin, approximately 60 to 70 percent of the residents had the name Comis. As you can see in the Family Name Chapter,
many Comis names attached another name to differentiate families. With regard to individuals mentioned on pages 20 and 21, some are Anna's
relatives and some are either distant or not relatives at all. Many of the photos are from relatives but then some are from residents of the town
whose name is also Comis.
Why should someone read your book?
For those who want to reconnect with their roots or to learn about Italian history and the Italian experience from its earliest time, readers will
love to read this book. Casada is like so many villages in Italy, still preserved in time. Readers will enjoy this beautiful translation which
maintained the beauty and subtlety of the Italian text. For many, reading about the early 20th century Italian American experience in the coal
mines will be both interesting and heartfelt and will remind them about the stories they have heard and the hard years their relatives
experienced when they first arrived in America.
Future Interviews
Lou Del Bianco: Out of Rushmore's Shadow - The Luigi Del Bianco Story [History]
JoAnn Locktov: Dream of Venice; Dream of Venice Architecture [Travel]
John Maresca: Helsinki Revisited [Memoir]
Mark Tedesco: I Am John I Am Paul: A Story of Two Soldiers in Ancient Rome [Historical Fiction]
Diana Pishner Walker: Spaghetti & Meatballs: Growing Up Italian [Children/Teen]
Frank P. Riga: Beppo - A Calabrian Tale [Fiction]
Lee Casazza
Big Mamma's Italian-American Cookbook
What inspired you to write your book?
I wrote this cookbook because of my love for authentic Italian-American and Italian food. I was taught
original family recipes that were passed down by three generations of my husband's Italian family. This
ignited my passion for cooking everything Italian and Italian-American for the past fifty years.
What is the most important attribute of your book?
I offer many popular Italian-American recipes that people know and many they've never tasted before.
There are even new ones I created on my own. All of my recipes come with a color photo of the actual
food, just as they were served in our home.
Why should someone read it?
My cookbook is the story of family and the home-style, authentic Italian-American food that we all love. I provide recipe origins, easy
instructions, personal tips, advice on the best and healthiest ingredients. Now, anyone can cook delicious dishes from Italy and
America!
How did you select the recipes for the cookbook?
I selected the recipes from almost 50 years of making Italian-American food with recipes from my husband's great grandmother,
grandmother, mother, and aunt. Every family added their own secrets or personal touches that became their favorites. I also added
my own original recipes that I experimented with and refined from travels to Italy.
What are some of your favorite recipes in Big Mamma's Italian-American Cookbook? Why are they your favorites?
I have favorites in every chapter. (Antipasti) Bruschette di Pomodori: simple to put together and especially delicious with vine ripened
summer tomatoes. (Insalate) Heirloom Cherry Tomato Caprese Salad: again, so simple to make. (Zuppe) Pasta e Fagioli: Italian and
Italian-American families love this traditional soup. (Pizza) White Pizza: also simple to make and delicious with soup. (Pasta)
Spaghetti, Pirate Style: an Italian American version of an Amalfi coast dish. (Pollo) Chicken Marsala: another classic Italian and
Italian-American dish. (Carni) Big Mamma's Sunday Braciole with Gravy: Big Mamma and her daughter, Mamaw, made this on
Sundays. It simmers very slowly on the stove for 3 to 3½ hours. (Frutti di Mare) Baked Shrimp Scampi: what's not to like about
baked shrimp in a butter, olive oil, garlic sauce. (Uova) Eggs in Purgatory: a classic Italian-American breakfast dish. (Contorni)
Risotto alla Milanese: all-time favorite side dish. (Dolci) Lemon Sorbet with Prosecco: easy to make and a delicious summer time after
dinner drink and dessert, all in one!
What are some of the easiest recipes to prepare?
Definitely my recipes listed at 30 minutes or less. Several of the above recipes are easy to prepare (Eggs in Purgatory, Chicken
Marsala, Baked Shrimp Scampi). I also highly recommend Grilled Steak Tagliata – marinated steak cooked over the grill, sliced thin
and served with arugula, vinaigrette, and shaved Parmigiano-Reggiano cheese.
What would be a good holiday menu – from appetizer to dessert – to prepare?
On Christmas Day, traditional Italian-Americans start out with a salad, then there is pasta, a meat, a side dish, and of course a
dessert. This is our favorite: Mediterranean Salad, Casazza Lasagne al Forno, Big Mamma's Sunday Braciole with Gravy or Roasted
Pork Tenderloin, Peas with Pancetta, [and] any type of Italian cookies for dessert (Raspberry Jam-Filled Hearts, Chocolate Hazelnut
Biscotti, Lady Kisses).
Andrea Parisi
Italian Through Food
What inspired you to write your book?
I was born and raised in the USA, but it wasn't until I moved to Italy that I truly learned how to eat
well. I'm indebted to the Italians for teaching me the importance of good food, for the body as well
as for bringing people together and adding meaning to life. I wanted to create a book that would
provide readers with a window into this marvelous food culture, and also give them the language
skills they could use to further explore

la cucina Italiana

on their own.
What is the most important attribute of your book?
Italian Through Food places equal emphasis on exploring Italian food culture and learning the
language. It's not just an appetizing approach: research is starting to show the many benefits of
culture-based language learning. My own teaching experience has shown that once the topic turns to
food, students light up and really get engaged. So in this book, language and food are inseparable,
you study both together.
Why should someone read it?
Have you ever wondered what makes Italian food so good? With Italian Through Food, you'll develop the cultural know-how and
language skills needed to understand where all of this deliciousness comes from. Whether you're a newbie to the language or
someone who's taken years of Italian courses, you'll enjoy reading through the story of how the Italians transformed ordinary
nourishment into one of the greatest pleasures in life.
Do you still teach this course? How does the course expand on the learning techniques in the book?
I stopped teaching the course when I moved back to Europe in 2011. That's when I first started combining the lesson plans into a
narrative. The class was usually taught over 10 weeks, but the book contains 20 units, so it has room to cover a lot more
grammar and information than the original course did.
Did you write the book because you weren't teaching the class anymore?
To some extent, yes. My students were so enthusiastic and engaged in the course, I wanted everyone to have the chance to enjoy
this material, whether or not I was teaching the class. I had also seen, over the years, that there were a lot of colleges and
community centers offering Italian courses molded around the theme of food. Since I had taught the course for a few years and
had worked hard on writing/revising the lesson plans, I thought the Italian Through Food workbook would be useful for other
teachers, giving them ideas and saving them time.
What feedback did you get from your students that helped develop the book?
Although there are Italian restaurants in every corner of the globe, aspects of Italian food culture can still seem unbelievable or
unfamiliar: the fact that pomodori were originally imported to Italy from the Americas, how gelato differs from ice cream, ways to
classify cheeses … My students really helped me understand where more explanation and further information was needed.
Another important lesson they taught me was how prevalent dialect is among Italian American communities. Several of my
students were surprised to find out that the words they learned from their nonni were actually dialect, and that standard Italian
uses a different lexicon. I know some of my readers will have a similar experience, and that's why this subject is addressed in the
pages right before the first unit.
How did you decide on the title and format of the book?
The title came straight from the course. [The format through] trial and error! As the lesson plans from the Italian Through Food
course were all text, I had originally thought the book would be a simple black & white workbook. Only after completing a first
draft and getting feedback from a few readers did I understand how important it was to include color and images.
Italian Through Food includes cultural and historical information about Italy and its food. What led you to include
these facts?
I've been learning about Italian food for decades, and I've always found the stories behind the cuisine to be delightful and fun to
share. It took a couple drafts to streamline the history and cultural information into brief and interesting nuggets. Adult Italian
students tend to have very busy schedules, so I wanted the book to be light and enjoyable, yet still informative.
How long did it take to write Italian Through Food?
It took about 8 years, with plenty of pauses due to other projects and life events. I wanted to make sure that all of the history
and "food lore" in the book was accurate, and that required about 150 hours of research in Italian libraries. It was also difficult to
work on this book for more than 2-3 hours at a time. Writing about food really does make you hungry, and I often found myself
cutting a research or editing session short to go get something to eat!