Founded in 2001 Italian and Italian American Authors and Books
The Italian American Press
www.italianamericanpress.com
©2011-2017 Janice Therese Mancuso
A book about two villages, one
nestled in the Dolomite Mountains
of Italy and the other in the coal
mines of western Pennsylvania.
Anna Comis, born in the ancient
Italian village of Casada,
chronicles her town and family
history. Half a world away, her
cousin Isabel Comis Degenaars who
grew up hearing stories of Casada,
shares her own family's
challenging journey into the dark
coal mines of Pennsylvania.
Royanna: An
Extraterrestrial Affair
by Raphael Ferraro
Mystery, adventure,
and a touch of romance
in this science fiction
tale about an
encounter between a
human and an alien.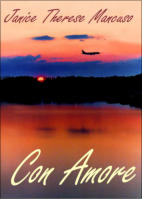 Con Amore
by Janice Therese Mancuso
A modern day romance
combining a bit of
suspense, interwoven with
the history of Italy, the
foods of each region, maps
of Italy, and recipes.
ABOUT US CONTACT FOR AUTHORS ADVERTISERS
A dying man's journal reveals family secrets hidden for seven decades –
secrets with a dangerous burden now passed along to his grandson.
Grandfather Angelo immigrated to America in the late 1890s to search for
his father, and his story of a boy growing into manhood is remarkably
different than what his grandson thought he knew.
Soldiers in the fourth-century Roman
Empire, John and Paul were
persecuted for their Christian beliefs.
Historical documents and information
gathered from the excavated remains
of St. John and St. Paul at the
Basilica of Saints John and Paul on
the Caelian Hill in Rome are the
foundation of this story.
"One might find on the streets of Rome
An elder soul who leaves her home,
Leans on her walker, makes her rounds,
Among remains of ancient grounds."
A narrative poem tells the tale of Maria, an
elderly gattara (cat lady) in Rome, and the
only one who can grant the final wish of a
high-ranking cardinal. Though Maria may
seem to be a person of little consequence,
and her cats strays, she possesses an
amazing power available only for those who
truly love another.
Two thousand years before Dante,
Michelangelo and the Medici of the
Renaissance, the extraordinary
Etruscans civilized Central Italy.
During this time, three generations
of the ambitious Porenna-Laris clan
live in two powerful rival cities that
threaten to tear their noble family
apart. One mysterious Flutist guides
their journey to the afterlife, while
the Great Prediction heralds doom
for Etruria.
This practical and handy
guidebook offers a "literary
license" to enjoy driving
throughout Italy. Road trips and
driving experiences steer you
through the twisting cliffside roads
of the Amalfi Coast, taking the
ferry from the mainland to Sicily,
one-way streets, and where to
park. "Pit Tips" provide useful
travel advice and a glossary of
Italian words highlights those for
travelers.
Growing up in an Italian family brings memories of joyous
holidays, celebrations, and family gatherings. Everyday events –
planting a garden, cooking dinner, or spending time with
grandparents – become special occasions when Italian traditions
are shared. With colorful illustrations and family recipes.
Beppo, born in a small farming
village of the Aspromonte in
1901, plans changes to improve
the lives of his fellow villagers.
His efforts are thwarted by an
ambitious and greedy adversary
who falsely accuses him of
attempted murder and has him
convicted. Escaping prison, he
meets with Giuseppe Musolino,
the famous Calabrian bandit and
folk hero, and discovers the
difference between vendetta
revenge and justice.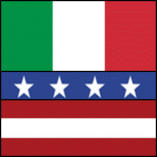 Author Interview with Isabel Comis Degenaars